多言語で「外国人法律相談」の予約ができます
It is possible to reserve for Law Consultations for Foreigners, which is held by The Association of Lawyers in Osaka, in languages other than Japanese. We also provide translators for this (Law Consultations for Foreigners).
■Available Consultation Time
Every week on Friday (except for holidays) from 13:00 to 16:00 (reservation is required)
■Consultation Place
Osaka-shi Kita-ku Nishi Tenma 1-12-5
Osaka Bengoushikai Sougou Houritsu Soudan Sentaa
■Telephone Number for Reservations
080-7541-5891(only for reservations)
■Available Languages for Consultations
English, Chinese, Korean, Portuguese, Spanish, Thai, Tagalog,Vietnamese, Indonesian, Nepali
・If you need a translator during your consultation, please tell us in advance when you make a reservation.
・There are cases where it is possible to consult in languages other than the ones listed above. Please contact us for the details in this case.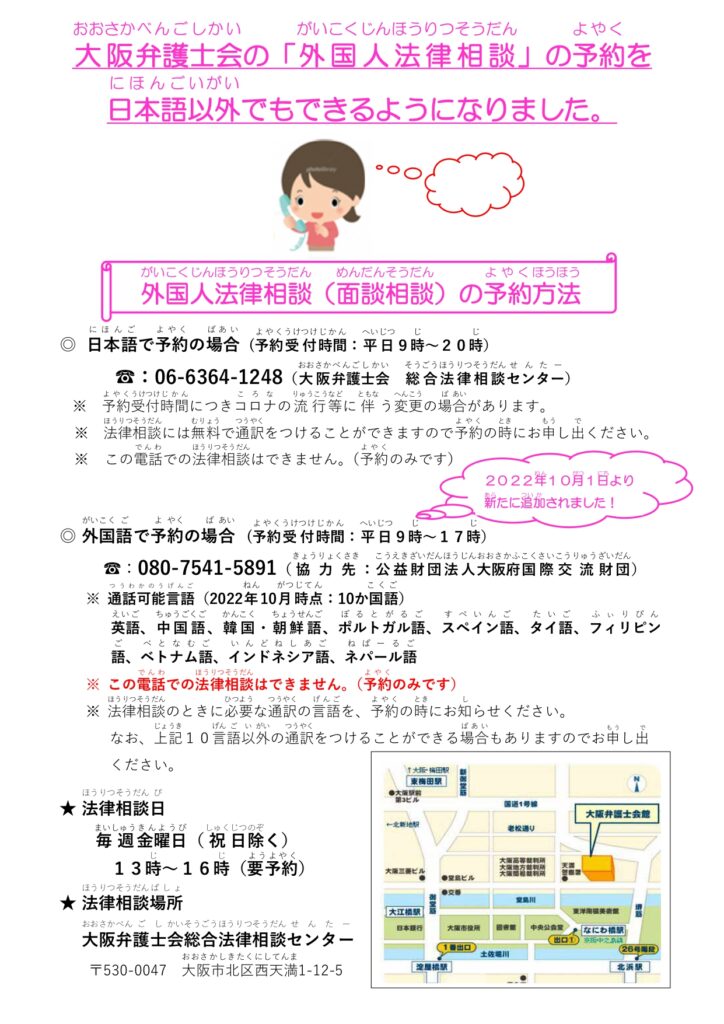 日本語 / にほんご
English / 英語
中文 / 中国語
한국・조선어 / 韓国・朝鮮語
Tiếng Việt / ベトナム語
Español / スペイン語